For design-focused organisations, Stickyworld offers an effective and time-saving solution for all your design review management requirements.
The flexible room publishing system makes it easy to involve staff, consultants and clients in discussions or knowledge sharing about your projects and within specific timeframes. Applied over the long term, Stickyworld will support development of a richer design culture across your organisation and enable sharing of valuable staff knowledge and expertise gained on projects.
---
The need for design review
It's often challenging to maintain the highest design quality standards between different projects across your office. No two projects are the same, and design quality relies on the different backgrounds and expertise of individuals in the team. Sharing design knowledge and best practices is also limited by time and space constraints, and not everyone appreciates the feedback.

Stickyworld offers a digital solution to this problem, providing a centralised portal that enables design review managers to implement a clear and friendly design review process throughout the project lifecycle. It enables practice wide engagement and knowledge sharing about the latest design thinking from different projects.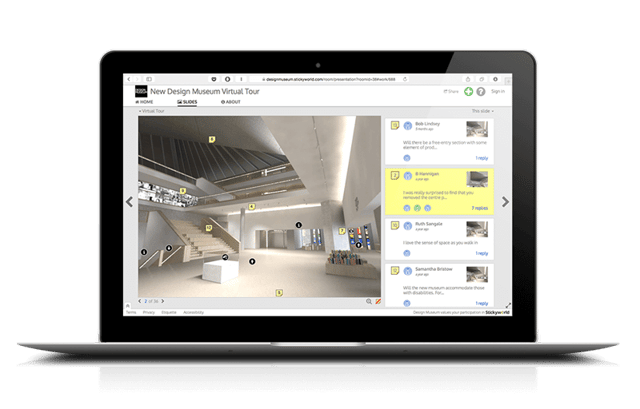 Introducing a flexible solution
Stickyworld enables architects, designers and other creative teams to invite feedback from colleagues, clients, and end-users on designs in progress or completed projects. You can use it in face-to-face presentations, and carry on the conversation after the meeting with collaborators, clients, and expert consultants to share further ideas or insights.

Through the creation of online "rooms" for each design project, participants can present and discuss project content, uploading PDFs, site photos, CGI panoramas, and other visual content that will enable a clear understanding of the design. Rooms can be easily managed by a central review team, but content can be customized by each design team at each stage of their project review. Participants in the design review can comment on the presentations, zoom in on the detail and frame an exact point of view. The design review outcomes can then be exported into PDF reports that evidence the whole process and record the engagement and discussions for record.
Key benefits of Stickyworld design review portals:
Easy to set up
Creates a

secure private portal which is available in project meetings

Adds interactivity to your internal or client-facing design review presentations
Easy to visualise the project with site maps, photos and panoramas
Easy to share and discuss content with the team, external consultants or clients
Provides an archive of progress as the projects progress, and can be shared with new members of the team as the project team scales
Makes progress and sign off more transparent
Helps you share knowledge and design solutions across your design studios and satellite offices
Benefits for the design team
Convenient facility to present and share design progress with colleagues.
Enables capture of useful feedback from experts and colleagues in a convenient, timely manner.
Enables design teams to stay engaged with other projects across the office.
Benefits for the review team
Commenting tools offer a convenient, precise way to leave questions or feedback.
Fosters knowledge sharing of universal best practices across the organisation.
Enables easy monitoring and comparison between projects.
Benefits for the organisation
Enables a consistent and transparent approach to design review.
Fosters knowledge sharing of universal best practices across the organisation.
Enables easy monitoring and comparison between projects.